Ben Goldberg


Production Records
Blog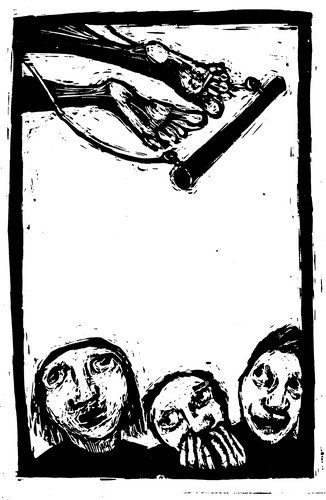 2021-Apr-10
Hi Everyone,
Just wanted to mention, Molly Barker now has a website.
Have a look:
2020-Dec-09
Like many musicians, when the coronavirus hit in March 2020 I lost all my work in a matter of days. I had a complicated schedule for March and April, filled with tours, festivals, and local concerts, and it all evaporated very fast. Along with losing all my paying work, I was left with the question, what about the work of art? Something tells me art will be fine, even though humans are in trouble at the moment. But right now art is precluded from its important work of gathering us together. So musicians are in a weird situation. In the initial shock my thought was, I don't know what to do but I can record music at home. So on March 19 I set myself the goal of writing and recording a new song every day, to be uploaded to an album on Bandcamp, available free, called PLAGUE DIARY.
As the quarantine has persisted much longer than I had anticipated, PLAGUE DIARY has grown into the largest compositional project of my life; as of this writing it comprises nearly 200 tracks. Of necessity, and appropriately for work created during lockdown, the philosophy of PLAGUE DIARY is "use what you've got" -- for me that means clarinets, a synthesizer, and rudimentary recording ability. I am learning to use the recording process as a sketchbook. Some notable features in the evolution of the composition are:
The Eb Albert System clarinet, an instrument dating to around the time of the last great pandemic, the 1918 Spanish Flu. This instrument predates the modern clarinet and has an innocent, open sound. I like the juxtaposition of the old-fashioned sound of this clarinet with the electronics of the synthesizer.
Augmentation of the clarinet sound by use of guitar pedals in the recording process.
Beginning in late June, each track bears a dedication to an artist, scientist, musician, or friend. The album thus functions as a way to maintain connection at this perilous time.
Although donations are most welcome, the album is offered free of charge to the listener, in hopes that the values inherent in the work can be of use and comfort.
2017-Aug-08
John Shifflett passed away April 28, 2017. You can read Andy Gilbert's obituary in the San Jose Mercury News here. Below are some thoughts I wrote down when I heard the news.
John Shifflett's passing has left a great big hole in my life.
John was a wonderful person -- funny, generous, humble, an astute observer of life's details. He was a hell of a musician. Big Sid Catlett said "I can swing seventeen men with one wire brush and a phone book." You got the feeling John could swing an entire band by just standing still. In a funny way, I didn't really think of John as a bass player; he was just John Shifflett. Sometimes you needed a bass player and sometimes you needed John Shifflett.
He was a master of contrapuntal groove. The melodies he created on the bass were carved out of metal, they were functional objects. You'd be playing a song and you'd be astonished by John's lines -- he had found the inner shape and substance of the song, it sounded perfectly obvious when he played it but you had never known it was there.
I regret John's passing but one thing I don't regret is that whenever we played I tried to tell him all of this, that I loved him and that I learned something new from him every time.
We will really miss John Shifflett.